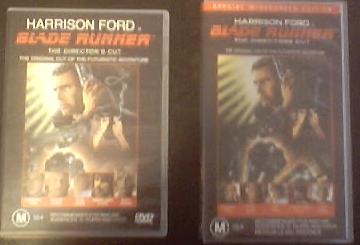 On this page we have all you need to know about the Blade Runner Movie. I have supplyed the original tralier from the movie which will make you remember what happens in the film Enojoy!
RICK DECKARD (HARRISON FORD) PROWLS THE STEEL-AND-MICROCHIP JUNGLE OF THE 21ST CENTURY LOS ANGELES. HE'S A "BLADE RUNNER' STALKING GENETICALLY MADE CRIMINAL REPLICANTS. HIS ASSIGNMENT : KILL THEM. THEIR CRIME: WANTING TO BE HUMAN. THE STORY OF BLADE RUNNER IS FAMILIAR TO COUNTLESS FANS.BUT FEW HAVE SEEN IT LIKE THIS. BECAUSE THIS DIRECTOR RIDELY SCOTT'S OWNVERSION OF HIS SCI-FI CLASSIC. THIS NEW VERSION OMITS DECKARDS VOICE OVER NARRATION. DEVELOPS IN SLIGHTLY GREATER DEATAIL IN ROMMANCE BETWEEN DECKARD AND RACHEL (SEAN YOUNG) AND REMOVES THE "UPLIFTING" FINALE. TH RESULT IS A HEIGHTNED EMOTIONAL IMPACT: A GREAT FILM MADE GREATER. MOST INTRIGUING OF ALL IS A NEWLY INCLUDED UNICORN VERSION THAT SUGGESTS DECKARD MAY BE A HUMIOID. DO ANDROIDS DREAM OF ELECTRIC SHEEP? IS DECKARD A REPLICANT? AS WITH ALL THINGS IN THE FUTURE. YOU MUST DISCOVER THE ANSWER YOURSELF.
JERRY PERENCHIO AND BUD YORKIN PRESENT A MICHAEL DEELY-RIDELY SCOTT PRODUCTION STARRING HARRISON FORD IN BLADE RUNNER WITH RUTER HAUER SEAN YOUNG EDWARD JAMES OLMOS SCREENPLAY BY HAMPTON FANCHER AND DAVID PEOPLESEXECUTIVE PRODUCES BRIAN KELLY AND HAMPTON FRANCHER VISUAL EFFECTS BY DOUGLAS TRUMBULL ORIGINAL MUSIC COMPOSED BY VANGELIS ASSOCIATE PRODUCER IVOR POWELL DIRECTER OF PHOTOGRAPHY JORDAN CRONENWETH PRODUCED BY MICHAEL DEELY DIRECTED BY RIDELY SCOTT PANAVISION TECHNICOLOUR
HARRISON FORD RUTER HAUER SEAN YOUNG
RICK DECARD ROY BATTY RACHEL
EDWARD JAMES OLMOS DARYL HANNAH
GAFF PRIS
M 15+ STEREO SOUND COLOUR 112 MINIUTES
This has been a LADD Company Release In Association With Sir Run Run Shaw.

BR Character Biographies